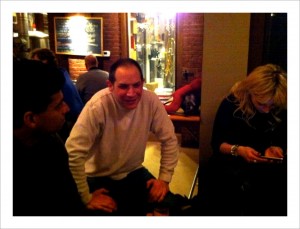 The 48 hour Go Green premiere was on Thursday at the Kendall Cinema in Cambridge, MA. The screening was a success for the film, cast, and crew. We had an incredible turnout in support of our film, with over 30 people filling 2.5 rows of seats for our film alone. "Breathe Again" was screened mid-way through the 15 films being shown that night, which was good – we were hoping to be in the mid to late portion of the screenings. We were the only drama of the night. All the other submissions were straight comedies, apocalyptic comedies, or mockumentaries.
There was a Q&A at the very end, which wasn't organized very well. They invited to the front the entire crew for all the films, so there were a ton of people passing the mike around, introducing themselves and their role, and fielding generic questions from the audience. Upon exiting the premiere, the 48 hour film people were collecting ballots for audience favorite, where attendees picked 3 films (no ranking) they liked best.
Based on the feedback we got from friends, strangers, and other filmmakers, "Breathe Again" stood out in terms of the cinematography. There were some questions about the story, which didn't surprise us since we knew the edit still required some visual and audio cleanup, plus some re-working of the edits, but it's what we were able to accomplish in the 48 hours.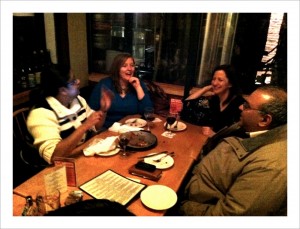 After the screening, we held a wrap party at Flat Top Johnny's, celebrating our first 48 hour film effort. The team has been having discussions on extending the story to make it into a longer short, as well as participating in the traditional (i.e. non-eco-themed) 48 hour film competition in May.
On behalf of the cast and crew, thanks again to everyone who turned out for the event!