[iframe: width="640″ height="360″ src="http://www.youtube.com/embed/3QPZfcYTUaA" frameborder="0″ allowfullscreen]
Think Before You Pink. That's the underlying message of "Pink Ribbons, Inc.", a new documentary examining the pink ribbon movement, and the close ties between nonprofit giants like Susan G. Komen for the Cure and numerous large chemical and food companies, suggesting a cause that is driven more by a bottom line, rather than finding an actual cure.
While the pink ribbon movement has certainly been successful in raising breast cancer awareness, "Pink Ribbons, Inc." puts forth a number of well-informed and moving interview subjects, along with an astonishing amount of revealing evidence, that illustrates just how much the movement has been taken over by corporations interested in replenishing their image, or selling products to the traditional household shopper (i.e. women).
PINKWASHER • pink-wah-sher • noun

A company or organization that claims to care about breast cancer by promoting a pink ribbon product, but at the same time produces, manufactures, and/or sells products that are linked to the disease.

Term used by many advocacy organizations to describe the hypocrisy and lack of transparency surrounding breast cancer fundraising and Breast Cancer Awareness Month
The documentary argues how breast cancer's portrayal as something "pretty and feminine and normal", and the engagement of women in a "tyranny of cheerfulness", has done more to create a myth of progress, rather than actual steps towards finding a cure. With statistics suggesting the lifetime incidence of women getting breast cancer has actually increased, not decreased, "Pink Ribbons, Inc." makes a plea for moving past awareness and detection, and making organized and concerted efforts towards prevention by funding research that can help women understand the underlying causes of breast cancer.
[iframe: width="480″ height="360″ src="http://www.youtube.com/embed/dDfqIgXTlf0″ frameborder="0″ allowfullscreen]
What the Cluck!! KFC's Buckets for the Cure Campaign
The film is not perfect, as it effectively maanges to stir the emotional pot, but leaves the viewer with a vague call to action in the end. It also cites some controversial statistics (I later learned), such as the "1 in 8 women get breast cancer", which requires some qualification for it to be accurately cited. But while its critique of corporations such as Revlon, Estee Lauder, Ford, as well as the Komen foundation, feel a bit repetitive by the end, it's hard to ignore the questionable "cause-marketing" efforts behind all the walks, runs, and jumps in the name of breast cancer.
Understanding why biopharmaceutical giant AstraZeneca had a vested interest in increasing breast cancer diagnoses by devising the concept of a National Breast Cancer Awareness Month (AstraZeneca manufactures breast cancer drugs); and learning how Self magazine and Estee Lauder "stole" Charlotte Haley's peach-colored ribbon (by simply changing the color of it) after she refused to give them permission to use it for "breast cancer awareness" – are among the many little revealing "facts" that put breast cancer philanthropy in a very different light.
To its credit, the film is wise to acknowledge the sincere and respectable efforts of the masses of women who help champion the pink ribbon movement, so as not to alienate them or their efforts, while at the same time urging women (and men) to be more critical and informed in how they choose to invest their time and money. It also sidesteps any notion of suggesting the ties between corporations and breast cancer organizations as being a conspiracy, instead presenting it as a more insidious form of "business as usual" capitalism.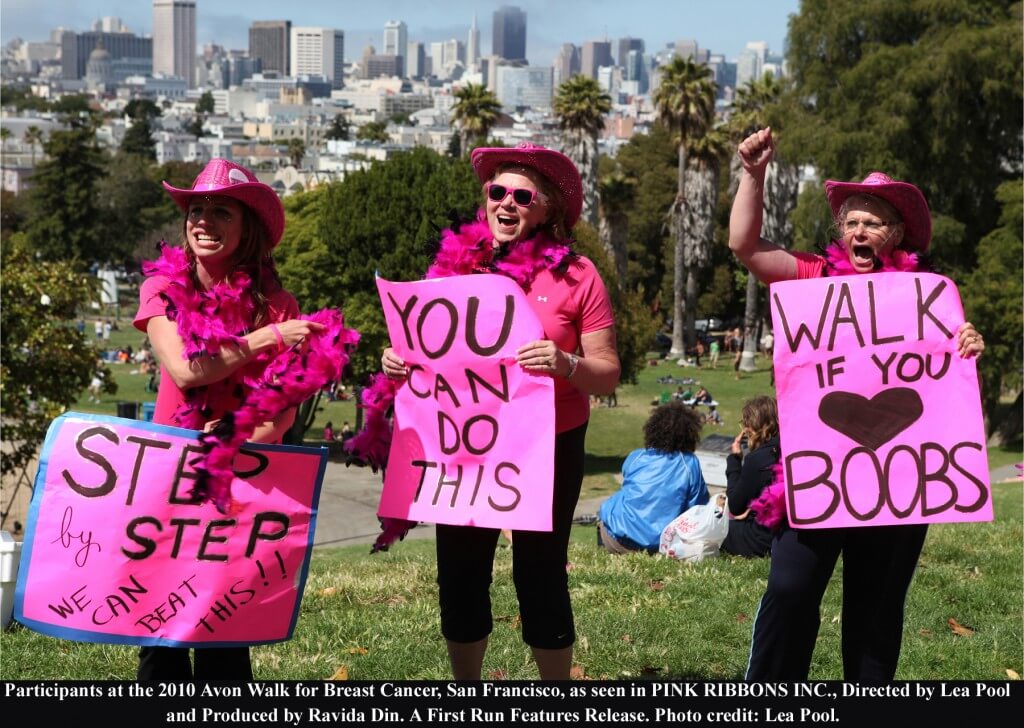 The screening I went to was a special sneak preview at a packed Coolidge Theatre in Brookline, MA. It was a sold out show, and judging from the line of people being turned away at the ticket counter, there was a lot of interest in and awareness of the film. A panel discussion was held after the screening with: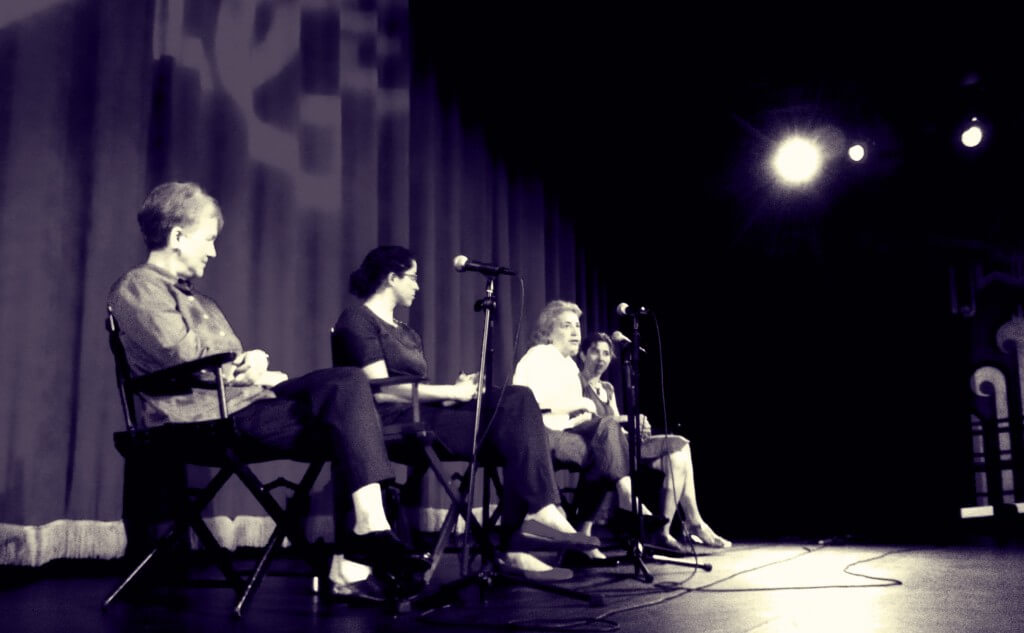 Most of the discussion focused on how we, as a society, don't typically challenge or question organizations' efforts, wanting to believe the sincerity of their work, at least until they overreach the boundary of what can be considered acceptable (eg. the KFC Buckets for the Cure Campaign). The Breast Cancer Action group also had a toolkit available describing how people can take more effective action in support of breast cancer and to "think before they pink". It's available off their site for download.
The film is in limited release right now, playing short stints at various theaters. It opens at the Coolidge Theatre starting Friday, June 22, 2012 for 2 weeks only. It's the only Boston area showing planned for the film right now, so catch it while you can.