With Apple's recent roll out of the "new" iPad, it reminded me of this cool technology I read about a few months ago that looks promising, but hasn't gathered a lot of momentum, yet…
[iframe: src="http://player.vimeo.com/video/31608796?title=0&byline=0&portrait=0″ width="640″ height="360″ frameborder="0″ webkitAllowFullScreen mozallowfullscreen allowFullScreen]
Conceived by war documentarian Danfung Dennis, whose film Hell and Back Again won the Grand Jury Prize at last year's Sundance Film Festival and was a 2012 Academy Award nominee for Best Documentary Feature, Condition ONE (C1) is a technology company developing a new immersive video viewing platform, currently targeted for the iPad, but soon to be available for a number of other tablets.
An iPad app released back in November 2011 allows you to demo the technology using a variety of in-app videos. By panning, tilting, and touching the iPad screen, you experience the video's world from a first person perspective, "exploring" different things in the scene in real-time. It's similar to turning your head in response to something you might hear or see just outside your peripheral vision.
[iframe: src="http://player.vimeo.com/video/21514274″ width="640″ height="360″ frameborder="0″ webkitAllowFullScreen mozallowfullscreen allowFullScreen]
Most of the videos available right now are war footage, a symptom of CEO Danfung's background, but Condition ONE is looking to license the technology to media companies and brands by offering them support, from consultation, production, encoding, to platform integration via an API and embeddable video player. They're not revealing what equipment needs to be used to produce such video until you license the software, but it looks to be off-the-shelf cameras so long as it meets some minimum specs.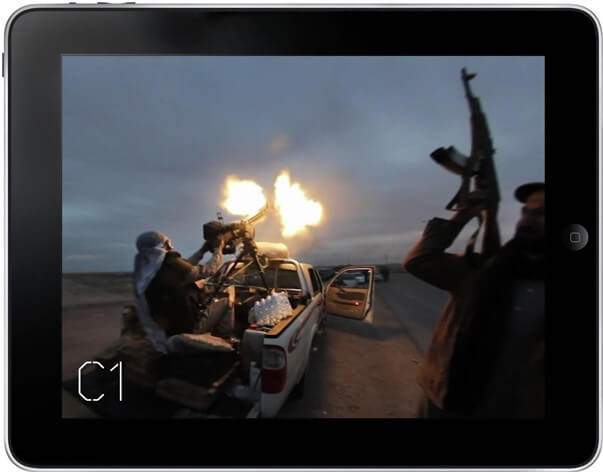 In a press release today, Condition One announced they're a finalist in the Mobile category at the 4th Annual SXSW Accelerator, a marquee event at this month's SXSW Festival where early stage technology companies demo innovative new technologies in front of influential industry judges and a live audience.
In a time of gimmicky 3D films and TVs, it's hard to say how serious or not the technology will be received. A lot of it will depend on the quality of the content produced for it, which is probably why Condition One is looking to produce some video content themselves. Having a war documentarian at the helm will likely help keep some of that gimmicky at bay, which gives it some promise.
Give the app a try. It's hard to deny the potential for some interesting applications in photojournalism, sports, nature, and film.