Today was a long day. We started the morning with breakfast in room 205, courtesy of Alison and Chandler, our 2 instructors. From there, we spent the entire morning analyzing photographs by artists such as Henri Cartier-Bresson, discussing the "decisive moment" in photography, and then taking a photograph and creating an entire 3 act story around it. This last exercise is actually part of the admissions process at the NYU film program. It sounds easier said than done, and Merri, one of the participants, discovered exactly how difficult it is to spend 15-20 minutes articulating a story around a single photograph.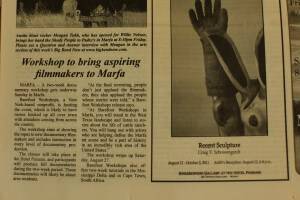 Coverage in The Big Bend Sentinel, Marfa's local newspaper
After lunch, we met Tom, owner of the Marfa radio station, followed by Tim, owner of the Marfa book store. The purpose was to start investigating story leads, and there are many. Marfa is the kind of town where one can easily say, "nothing happens here", but as with any small town, it is full of history and stories, ranging from the unique story of every Anglo newcomer in town (people who move to Marfa), cattle ranchers, the 70% hispanic population you don't really see around town, border patrolmen, artists, and eccentric individuals such as the legally blind, 86 year old man who runs the only fitness center right outside of town, there were a lot of interesting leads. Contacting them, or simply finding someone who can put you in contact with them, was the challenging part.
| | |
| --- | --- |
| | |
| Alison and Kari waiting for others before visiting Tim, the local book store owner. |  Merri, Laura, and Ashley, meeting the "Hot Shots", nomadic firefighters who travel across states to battle fires. |
We ended up dividing and conquering by having people take different leads and try to locate them. We called and emailed around, or visited some of the local shops asking if they knew how to get in touch with so-and-so. In many ways, we made a lot of progress, and in some ways, we're still struggling to find strong stories. The great thing about this program is Chandler and Alison really drilling home that we're not here to just interview any random person and throw a bunch of b-roll on top of it. We're really here to discover a story and leave a little bit of history behind for the town.
| | |
| --- | --- |
| | |
| Chandler and Laura at the Marfa courthouse. |  Kari, Chandler, Russell, Alison, Ashley, Laura, and Merri saying goodbye to Paul, Marfa's judge. |
After taking a water, iced coffee, and smoothie break, we met up with Paul, Marfa's judge, at the courthouse. He was eloquent, a talker, and had something interesting to say about any Marfa topic. From contentious border issues, to cattle ranchers struggling to survive the worst drought in a long time, he had a lot to share. From there, we visited the Flectchers, a cattle ranching family 30 minutes outside of town. They were incredibly friendly, open, and invited us to ride with them tomorrow morning at 5:30am when they'll be rounding up the cattle they are selling off. Ashley, Kari, and I plan to take them up on their offer, so we'll be riding horses bright and early tomorrow!!
| | |
| --- | --- |
| | |
| Visiting the Fletchers, a cattle ranching family. | Calling it a night and heading back to the hotel with Laura and Merri.  |
After a late, late dinner, I arranged a meeting with Emily, who started the Marfa Montessori program. Merri, Laura, and I spent some time getting to know her, trying to find a possible story line around her. Despite it being late, we decided to stop by Padres, the local bar and hangout place, only to discover Dave, the owner, who offered a number of other possible story leads around him, his bar, and/or the shuffleboard competitions he's holding this weekend. A lot to process for one day. Tomorrow, we'll be following up on some more leads, and then trying to converge on the 3 stories we'll be filming. If the first day is this busy, I can't imagine what the next few are going to feel like!!