There's a quote that goes along the lines of…
"Sometimes you have to lose yourself in order to find yourself…your true self."
The need to find yourself can sometimes happen unexpectedly, maybe because life led/left you somewhere you didn't expect, only to need to find your way back, while other times, losing oneself may be a conscious choice, made in hopes of learning something about yourself. This is especially true when it's chosen and done in service of something or someone beyond you, and that is where filmmaking comes in for me.
Overcoming technical challenges, the familial nature of making a film, and the process of creating an experience can be a lot of fun and immensely rewarding, but when done right, filmmaking isn't really about the film. It's about the experience you have telling a story, how that experience changes you, and how experiencing that story on screen changes you and your audience. This is what's made movies, and the privilege of making one, near and dear to me. It's also why the philosophy behind Barefoot Workshops resonated with me.

Barefoot Workshops is a non-profit organization that teaches individuals and organizations how to use digital video, new media, and the arts to transform their communities and themselves. They lead documentary workshops in the Mississippi Delta, Marfa, Texas, Cape Town, South Africa, West Bank, plus other areas. They also lead NGO (non-governmental org) workshops to enable organizations around the world to achieve progress and goals in areas such as health (HIV/AIDS), conflict resolution, youth empowerment, and civil rights. Their work has focused on empowering victims of natural disaster, refugees, displaced persons, youth in post-conflict areas, and those working on the front lines to prevent the spread of HIV/AIDS. Their workshops are intensive and demanding, training people from different backgrounds and skill levels on how to blend the technical and artistic aspects of documentary storytelling.
Having held 9 workshops in the Mississippi Delta the last few years, 2011 marks the first year the program will be held in Marfa, Texas, which is where I'm headed. Having been the home base for productions of classic films such as "Giant", to more contemporary fare such as "No Country for Old Men" and "There Will Be Blood", Marfa is in the middle of the west Texas landscape, offering stories ranging from the life of cattle ranchers, to those of local artists developing the Marfa art scene.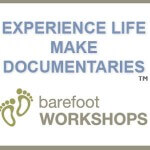 Upon arriving in El Paso, I'll be driving 3 hours east to Marfa, and meeting the 5 other workshop participants and our 2 instructors for dinner. Starting tomorrow, we'll be spending 12 days learning the process of documentary storytelling while producing an actual film. There are no days off, so these are 12 long consecutive days. By day 2, the 6 of us will have researched, pitched, and chosen a story that "speaks to us." Based on the stories we choose, we'll be breaking into three groups of 2 and filming three 7-10 minute documentaries. All 3 films will be screened on the final day of the program for ourselves and the surrounding community to experience.
Needless to say, it will be a busy and hectic rest of the month. I'm hoping to make time to share updates as I go through this, and I will definitely be posting pictures on my photoblog, so keep an eye there as well. For now, here are the bios of our 2 instructors.
——————————

Alison Fast is a Peabody Award-winning television producer who has worked for such networks as NBC/Universal, BBC Worldwide and MTV Networks. She has documented international events including, World AIDS Orphans Day in Los Angeles, the World Water Forum in Mexico City, the International AIDS Conference in Mexico City, and the Clinton Global Initiative (CGI) in New York City. She spent six months documenting the power of grassroots media in Brazil, and speaks Spanish and Portuguese fluently. As Program Director of Barefoot Workshops, she has produced and led educational programs in the United States, South Africa, Burundi, Jordan, Kuwait, Bahrain, Israel and Palestine. Her goal is to use media to bridge diverse communities around the world and to work towards global strategies for peace and a sustainable future. She graduated in 1998 with a degree in Journalism from Boston University College of Communication.

Chandler Griffin is a NYC-based, documentary filmmaker, educator and the Founding Director of Barefoot Workshops with over ten years of experience instructing over seventy media workshops, starting out at the Maine Media Workshops. His projects have taken him to Latin America, North America, the UK, Ireland, Africa, India, Southeast Asia and the Middle East. He has produced and taught educational programs in northern Uganda, Rwanda, Burundi, Kenya, South Africa, Honduras, Jordan, Kuwait, Israel, Palestine, Bahrain, India, Vietnam, Indonesia, Malaysia, Costa Rica, Mexico, Puerto Rico, Canada and various locations in the continental USA. He is a founding member of Video Volunteers. Chandler has collaborated with Navsarjan Trust, PLANusa, 1Giant Leap, PBS, The American Cancer Society, Hospice Ministries, FXB International, The Ford Foundation, Academy for Educational Development, Global Nomads Group, RFK Center for Human Rights, Ocean Classroom, FilmAid International, UNESCO/UNAIDS/UNDP, the State Department's Middle East Partnership Initiative and the President's Digital Freedom Initiative. His camera work has helped films earn a CINE Golden Eagle Award and an Oscar Finalist/Student Academy Awards. In 2006 Chandler founded A River Blue, an arts empowerment project for 100 displaced children in northern Uganda. A River Blue now offers agriculture, agroforestry, animal husbandry, tailoring, psychosocial counseling, English, business and secondary school to 51 students and regularly hosts visiting artists. He holds a BFA in Photography and a BFA in Video/Film from the Savannah College of Art & Design and lectures regularly in New York City at B&H, Tekserve and Atlantic Theater Company.