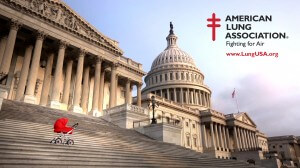 In an effort to thwart Congressional attempts to weaken the Clean Air Act, the American Lung Association (ALA) is launching a Healthy Air Campaign to preserve the Environmental Protection Agency's (EPA) authority to implement and enforce the forty-year-old landmark public health law.
One of the ALA's first media outreach efforts is an ad focusing on the effects of air pollution and its impact on the health of children. The red baby carriage in the ad is a symbol they plan to use throughout their campaign as a unifying theme for all their media. In the coming months, they also plan to strategically place red carriages throughout key cities as a way of generating publicity.
[iframe: width="560″ height="349″ src="http://www.youtube.com/embed/JGqFUyRjavc" frameborder="0″ allowfullscreen]
What does this have to do with me you might ask? After working with the ALA on their Fight for Air Climb promotional video earlier this year, the field organizer for the Massachusetts Healthy Air Campaign contacted me to produce a short documentary/promotional video as part of their new media campaign. The doc is still in the early planning stages – there are a few small events coming up this month, but the real kickoff for the campaign isn't until late September. They plan to do postcard signings at local farmer's markets, bike treks, interviews with parents of asthmatic children, hold signs at town hall meetings, etc. so many of these events will likely make their way into the doc. I'll post more as things move along.