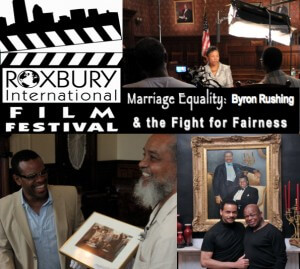 Tomorrow, July 29th, is the Boston Premiere of Thomas Allen Harris' new documentary, "Marriage Equality: Byron Rushing & the Fight for Fairness". I worked with Thomas in 2009 as part of the Digital Diaspora Family Reunion project. As part of that project, we interviewed Representative Byron Rushing, who shared his experience introducing Same Sex Marriage legislation to the State Legislature.
That interview provided a foundation for Thomas' new short documentary, which follows the people and events associated with that legislation, while connecting the Black Civil Rights Movement with the Lesbian and Gay Marriage Equality movement. 
The documentary is screening 7:30 – 9:00pm at the Museum of Fine Arts (Remis Auditorium, 161), as part of the Roxbury International Film Festival. After the screening, a Q&A will be held with Thomas, followed by a conversation with Byron Rushing on where we are now, 7 years after the passage of gay marriage in Massachusetts, as well as a panel discussion with subjects from the film, including: Cambridge City Councilor E. Denise Simmons, Arnold Sapenter, Rev. Leslie Sterling, David Wilson, Gary Daffin, and Rev. Irene Monroe. To purchase tickets online, visit the MFA's ticket center.