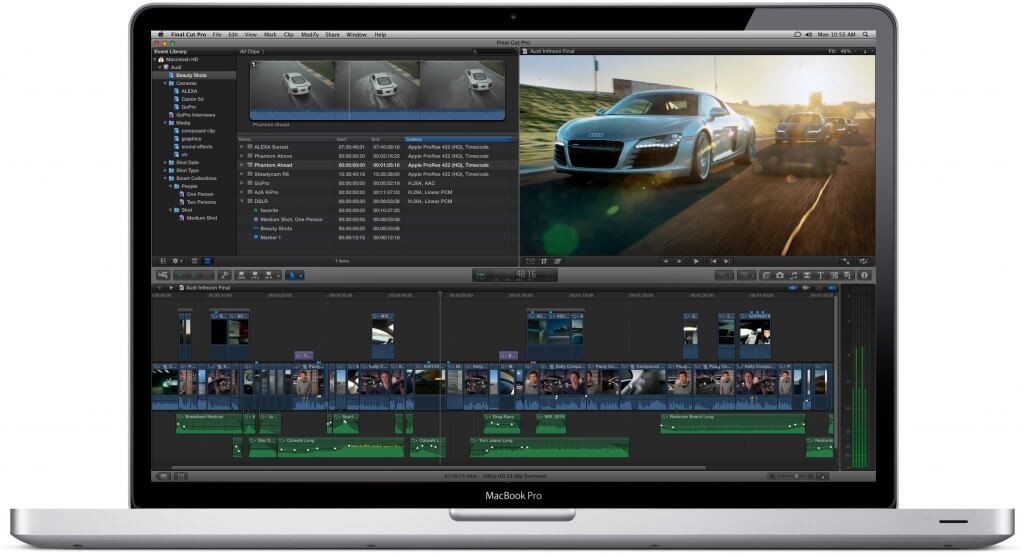 So with tremendous fanfare from 1700+ NAB attendees, Apple provided a sneak peak of their Final Cut Pro app, rebuilt from the ground up. It's officially called Final Cut Pro X ("final cut pro ten"), and in a word, it's incredible. There are plenty of insightful blog posts up, so before passing the baton to those, here are a few of my own thoughts/impressions on the topics generating the most buzz.
It's iMovie on Steroids
Many are expressing concern Apple has dumped the professional and prosumer market to focus on the consumer market, creating a "pro" version of iMovie, designed for "soccer moms". The arguments people seem to be using is the look and feel of the app, as well as its price. First off, being pretty familiar with the software development world (I manage a team of software developers by day after all), and the massive engineering effort involved in rebuilding a 32 bit app from scratch, to create a 64 bit, true multi-core, multi-process, and multi-threaded application, designed to not only handle "soccer mom" SD video, but also HD and 4K video files, with integrated primary and secondary color correction tools, and audio editing features comparable to those of Pro Tools, it's borderline ignorance to suggest Apple is abandoning the prosumer market. On the contrary, they are attempting to (and I hate to use such an overused word with them) reinvent digital editing. To change the non-linear editing (NLE) game.
| | | |
| --- | --- | --- |
| | | |
| Example project in Final Cut Pro 7 | | Same project created in Final Cut Pro X |
It's Too Pretty
Aspects of Final Cut Pro X do indeed look and feel like iMovie, but so what. What does that mean? As some have already countered, "just because a Ford and a Ferrari (and a Juke) have a steering wheel and an accelerator, it doesn't make them the same car". The UI for the current Final Cut Pro version has remained largely unchanged since 1999. Software user interface design has come a long way in the last 12 years, and iMovie has made good use of modern visual and interaction designs, simplified mental models, progressive disclosure, and efficient workflow design that have been developed specifically for working with video. In other words, love or hate the app itself, iMovie does make use of many excellent user interface design elements, as well as a modern visual look. Apple would be foolish not to leverage all those design elements, likely backed by extensive usability studies, as part of their Final Cut Pro rewrite.
| | | |
| --- | --- | --- |
| | | |
| iMovie interface | Final Cut Pro 7 interface | Final Cut Pro X interface |
It's Too Cheap
The new pricing structure is the other argument people are using to question Apple's commitment to the prosumer market. In doing away with all the "different flavors…from upgrade pricing, Final Cut Express, and Final Cut Studio…and greatly simplifying the pricing structure" to offer Final Cut Pro X for $299, it might seem Apple is attempting to make every Joe off the street an editor. First off, software doesn't equal skill, so Final Cut Pro X isn't going to make every Joe off the street an editor…it'll just make them a Final Cut Pro X owner.
Secondly, $299 is just for Final Cut Pro X. It doesn't include Motion, Soundtrack Pro, Color, DVD Studio Pro, or Compressor. Assuming Apple doesn't kill off any of these apps (hang in there DVD Studio Pro), and they're folded into a similar pricing structure which is likely to be the case, we're looking at well over $1,000 for the equivalent of what Final Cut Studio is today, as opposed to the $999 price tag FCS carries right now. I'm certain Apple will price all of these apps aggressively to entice current FCS owners to switch over, but it may not be as cheap as a FCS upgrade is today. Point being, if you think Final Cut Pro X is too cheap to be taken seriously, consider what an FCS equivalent set of apps might run you and we're not talking major price difference. The only real difference is being able to purchase FCS apps a la carte.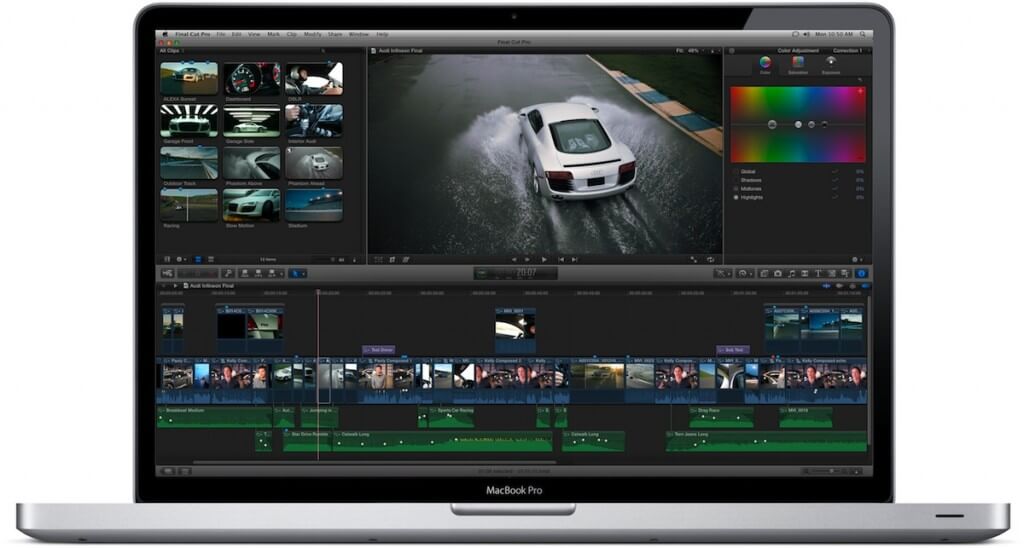 Lastly, this new price point reminds me of Apple's initial release of Final Cut Pro in 1999, when they effectively democratized the NLE space. At the time, if you needed an NLE, "the Avid" or Media 100, ran you about $100,000. What did Apple price Final Cut Pro at? A paltry $1,000. Final Cut Pro made film production accessible to anyone with a digital video camera (i.e. camcorder craze in those days), fueling a slew of truly independent films in the last decade. Were the people buying Final Cut Pro considered "real editors"? No, but over time, many of these people learned to edit (your's truly being one of those). Was Final Cut Pro viewed as a "real professional" NLE? No, but Oscar winning films eventually proved Final Cut Pro could be used for "real" film productions. Was Final Cut Pro the "best NLE" out there at the time? No, but as the old engineering adage goes, better is not necessarily better than best.
It Kind of Makes Sense
12 years later, with the DSLR and iPhone craze going on, digital video cameras have become even more ubiquitous than they were in 1999. And with YouTube attempting to produce online content not just distribute it, Google and Apple fighting to deliver it to our home, and all of them needing the average Joe off the street to create more professional content that can draw repeat, longer-term viewers, instead of just the "dog on skateboard" stuff, music videos, and pirated TV clips, what better than to make Final Cut Pro affordable and easily accessible to that next batch of Joes itching to produce "professional" content. I'm no expert in this field, and I would never pretend to know Apple's thinking, but so far, it's all making smart sense to me.
If you're skeptical how awesome the new Final Cut Pro X experience will be like, watch the Apple presentation and decide for yourself…
Apple's Intro to Final Cut Pro X
[iframe: title="YouTube video player" width="640″ height="390″ src="http://www.youtube.com/embed/-77beFICSlI" frameborder="0″ allowfullscreen]
Apple's Final Cut Pro X Demo
Start watching from the 10 minute mark to see some of the incredible new timeline features.
[iframe: title="YouTube video player" width="640″ height="390″ src="http://www.youtube.com/embed/gAXL7L9fToQ" frameborder="0″ allowfullscreen]
For commentary on the new features, check these excellent blog posts: