[iframe: src="http://player.vimeo.com/video/20187959?portrait=0&color=fbca54″ width="640″ height="360″ frameborder="0″]
I wasn't expecting winners to be announced for another week, so imagine my surprise when Ben Guaraldi, producer of the Boston 48 Hour Film Project, announced the winners of the Boston competition this evening, which had "Breathe Again" being recognized with 4 awards, the most for any film!!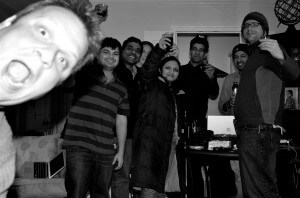 "Breathe Again" was awarded the Second Runner Up for Best Film, Best Cinematography, Best Editing, and Best Sound Design awards. While it's hard not to want the coveted "best film" spot, this is an incredible showing and exciting recognition for a team that had never participated in a 48 Hour Film competition, beating out previous 48 Hour award alums. A big congratulations to the cast and crew on an exciting end to our first 48 hour run.
Here's the complete breakdown of Boston winners…
48 Go Green Audience Award
"Mad Cow" by Wax Idiotical Films
Best Use of Eco Theme (tie)
Nadler Cinematic for "Board to Life"
Playomatic for "Thumbosis"
Best Use of Character
Playomatic for "Thumbosis"
Best Use of Prop
Gators for "The Trouble with Truffulas"
Best Use of Line of Dialogue
Chouhood Productions for "EChO"
Best Credit Sequence
Nadler Cinematic for "Board to Life"
Best Sound Design
A Green Piece for "Breathe Again"
Best Original Music
Fitweed for "Everything"
Best Ensemble Acting
Malarkey Films for "How Mobile Apps Saved the World"
Best Actor
Glenn Kane for "EChO"
Best Editing
A Green Piece for "Breathe Again"
Best Writing
Wax Idiotical Films for "Mad Cow"
Best Cinematography
A Green Piece for "Breathe Again"
Best Directing
Malarkey Films for "How Mobile Apps Saved the World"
Second Runner Up for Best Film
"Breathe Again" by A Green Piece
Runner Up for Best Film
"How Mobile Apps Saved the World" by Malarkey Films
Best Film
"Thumbosis" by Playomatic