At September's IBC (International Broadcasting Convention), Tangent Devices showcased an app they were developing for controlling Apple Color from your iPad. Last week, the vWave-Lite app was finally released, triggering a lot of discussion and interest in a number of post-production forums.
Part of the buzz is attributed to it being associated with a relatively high-profile, professional application – Apple Color. Another reason is it's one of the first (if not the first), iPad app some might think could conceivably replace an expensive, high-end console with a virtual one. In this case, it would seem like a free iPad app could be used in lieu of Tangent Devices own $1495.00 Wave console to do color correction and grading.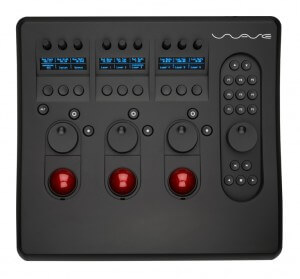 There've been other apps like Air Display, TouchOSC, and KeyPadPro that have been out for some time, allowing you to use the iPad as a control surface, but most of these haven't really received the same level of buzz as the vWave-Lite. The one possible exception to the bunch might be the AC-7 Pro for Logic Studio, which is the only one I'm aware of that could seriously be considered a physical console replacement:
All the others are simply an extension to your monitor…
…or require virtual "assembly" and are too clunky and unfamiliar to be considered a serious replacement for a physical console:
The AC-7 Pro and Tangent Devices vWave-Lite are obviously limited and aren't quite there yet to justify throwing out the real thing, at least not until the patented Apple tactile touch screens start making their way into the iPad feature set. But the similarities to the actual console professionals use, and it being easy to see the potential for it to function as the real thing, are cause for excitement. The vWave-Lite is clearly a step closer to the conceptual console Stu Maschwitz (ILM alum and Creative Director of Red Giant Software) posted back in January, leading many to go out in search of the mythical app.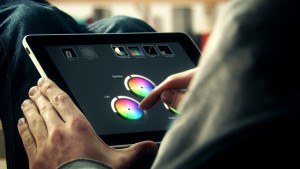 Another differentiator with vWave-Lite is its development by Tangent Devices, the same people who sell the physical version. This past week, Chris Rose (a founding member of Tangent Devices) reached out to on-line blogger Peter Salvia, to discuss the attention Tangent Devices has received, how they see the vWave-Lite app complementing their product line, and the market positioning for it. It's an interesting read to get a sense where things might go next: "Chris From Tangent Devices Discusses vWave-Lite for iPad".