Part 02 of the PBS Quality Group Workshops…
Overview
Alison Basset is the Project Shutdown Manager at WGBH's Media Library and Archive (MLA). Her group helps productions organize their research materials all the way through production shutdown so media remains accessible and preserved for future use.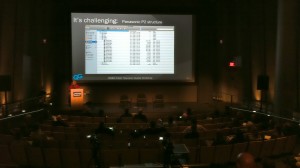 Links & Materials…
Slides from the talk are available here (.pdf).
Examples of how WGBH is using their media assets after production are:
Open Vault – This is a way of making materials available to the public, primarily for educational purposes
Teacher's Domain – Resources for teachers to incorporate media assets into their curriculum
Stock Sales – A for profit site providing documentary filmmakers access to WGBH media.
Production tools…
Media Production Organizational Tools – Set of tools from MLA consisting of a handbook and four FileMaker databases to help outside producers manage their media throughout the different production phases.
PBCore – Metadata standard for public broadcasting
Key Takeaways…
Use FileMaker tools to help track materials
Standardized metadata is the key to success
FileMaker Databases
From WGBH's perspective, there are 4 phases to a production:
Research Phase
Production Phase
Post-Production Phase
Archiving Phase
During the Research Phase, 2 FileMaker databases are used to catalog stills and stock footage. During this phase, the producer is figuring out and starting to decide what the organization structure is going to be throughout.
During the Production Phase, the stills and stock footage databases continue to be utilized, while a 3rd database is created for the original footage.
For the Post-Production Phase, a materials used database is created to manage the production log, payments to 3rd parties, cue sheets, etc.
Finally, during the Archiving Phase, physical assets are logged and cataloged on a shelf in the WGBH vault. The vault is an off site storage facility with over 750,000 items. Metadata is groomed from the databases and uploaded into MARS, WGBH's Media Archives Research System, a homegrown library system. FileMaker databases are considered the backbone to the information stored here.
Other Software Tools
The MLA has created a set of tools consisting of a handbook and four FileMaker databases to help outside producers manage their media throughout these different phases. It's available here:
http://openvault.wgbh.org/blog/about/media-production-organizational-tools/
As far as dealing with file-based media, the process is still a bit experimental. WGBH hasn't had an entire production be completely file based from pre to post, but when they've had to manage those assets, they have the producer hand in a drive with all the footage, along with all of their databases. They've then used a series of other tools to archive:
Open Text's Artesia DAM (Digital Asset Management) – Over 155,000 file-based assets. They're currently testing mapping directly from the producer's DB record to a DAM entry.
VITA – Homegrown ingest software tool for file-based video. It ingests the producer's DB and video files, then uses XSL to query the directory structure for that particular video (i.e. P2 directory structure, Canon directory structure, etc.) along with its metadata from the producer's DB. However, every vendor's structure is different, so this isn't perfect.
CatDV – A media DB being worked on to integrate all of these tools and workflows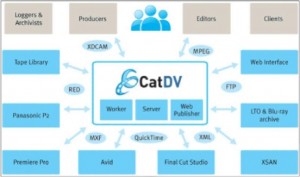 Metadata
At the heart of all this archiving is the metadata. In some cases, you're dealing with 3TB of digital material for a single Frontlines episode. As a result, MLA has been forced to develop some standardization for their metadata, which has been packaged up as PBCore.
PBCore (http://pbcore.org/2.0) is a metadata standard for the exchange of Public Broadcasting content. It's a dictionary for defining and describing media programs, how to produce them, and how to retrieve them.