BOSCPUG (Boston Creative Pro User Group) held another user group meeting last night, in conjunction with the BAVUG (Boston Avid User Group). The topic of the night was Blackmagic's DaVinci Resolve 10, which is slated to be released in Q3 of 2013. The featured speaker for the evening was renowned colorist (and writer and director), Alexis Van Hurkman, author of the popular Color Correction Handbook. He had on hand an alpha version of DaVinci Resolve 10, the same version he covered at the Las Vegas Supermeet at NAB back in April, but unlike the 20 minutes he had back then to cover 50+ new features, he had a 1.5 hours last night to cover the features in more depth.
The most interesting trend that came out of the discussion was, while most NLEs and 3rd party plug-in developers have worked over the years to provide built-in tools for color, audio, and motion work directly within Final Cut Pro, Adobe Premiere, and Avid Media Composer, Blackmagic is doing the same with DaVinci Resolve, but coming at it from the colorist's end. With features like built-in audio tracks, re-timing motion tools for slow-motion, and a growing number of edit tools for roll, ripple, slips, and trims, all built-in to Resolve, the line between the on-line colorist and the off-line editor, is becoming blurrier and blurrier.
Not only are professional off-line editors attempting to become "colorists", capable of producing color grades to "help" (i.e. not really) their fellow professional colorists with a starting point for their work, but professional colorists working with Resolve are now being empowered to ingest dailies, process metadata off the clips, and assemble string outs to "help" their off-line editors with a starting point for their work, along with a few basic grades in place before a rough cut has even been assembled! Interesting times.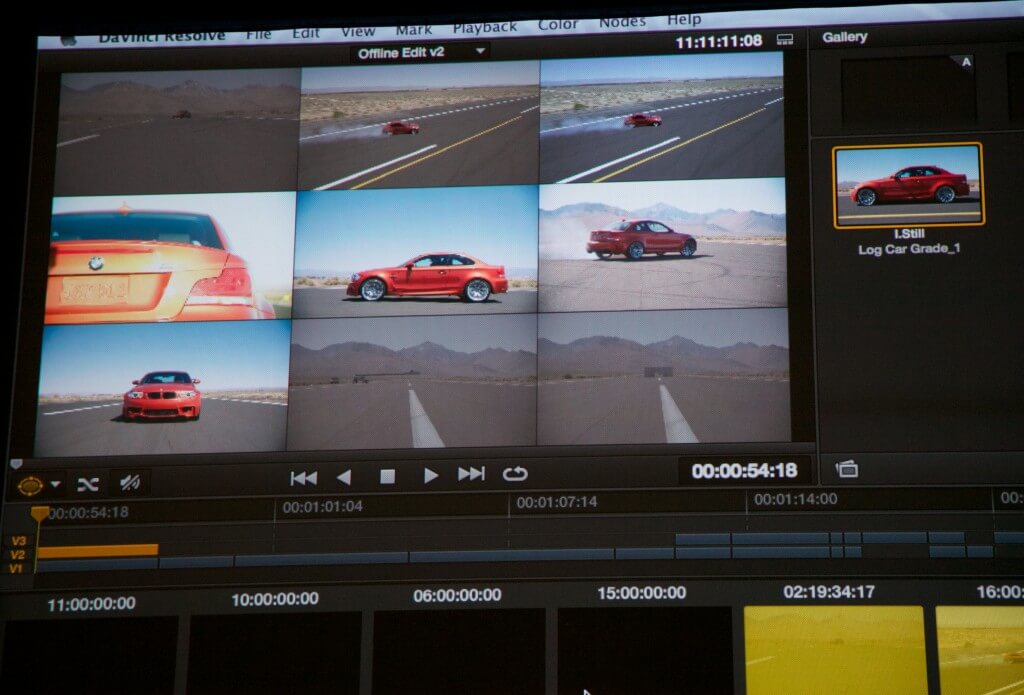 It's hard for words to convey the color grading workflows Alexis demo'd at the meeting, so here are just a few of the highlights that stood out:
[list type="circle"]
[item]As a colorist, have you ever had to deal with editing tweaks after the cut you've been handed has supposedly been "locked"? Well, Resolve 10 is providing more tools within the Edit Page to do some basic editing adjustments, adding titles and leader elements, and even re-timing footage, all without having to round-trip back out to an NLE, or coordinate schedules with an editor who may be off on another project. This is akin to an editor having to make some last minute basic color tweaks before outputting a final delivery, and resorting to a 3-way color corrector filter in lieu of round-tripping out to a colorist again.[/item]
[item]Do you ever have to color match more than 2 clips, only to find yourself repeatedly (de)selecting various clips to compare a pair at a time? Well for real-time shot matching, one of the new features is multi-clip shot comparison for any number of selected clips. Not only that, but there's grade versioning so you can compare multiple grades simultaneously for a clip, similar. Reminded me of the Audition feature in Final Cut Pro X.[/item]
[item]Need to create and track multiple power windows? Resolve's window tracker isn't new in version 10, but it's still amazingly powerful yet simple. The main change in Resolve 10 is the ability to embed any number of windows. And once you've generated tracker data for one window, you can now copy/paste that same tracker data onto the other windows.[/item]
[/list]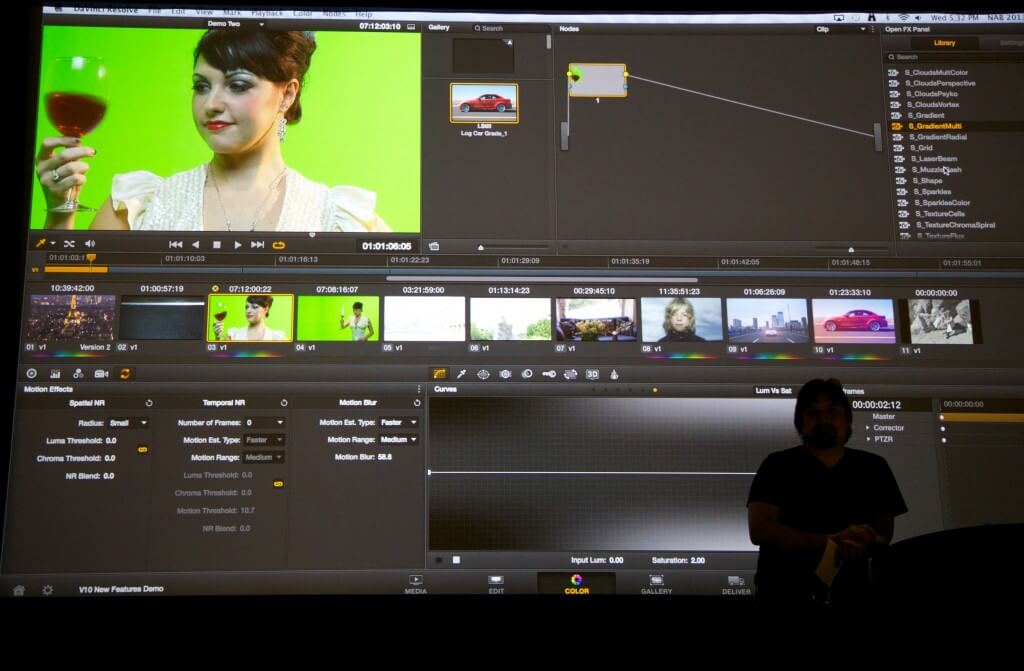 [list type="circle"]
[item]Need to create intricate node structures? There are shortcuts for common node structures like the Splitter/Combiner that allows you to split each individual color channel for separate creative or corrective adjustments, before combining the channels back up.[/item]
[item]Have any OpenFX based plug-ins? Resolve 10 provides compatibility for any OpenFX based plug-ins, along with on-screen controls they may support. Alexis demoed Sapphire 7 effects, which offered a compelling case for doing work normally reserved for the NLEs directly within Resolve.[/item]
[item]Lastly, need to perform some noise reduction or add some blur to your footage? The Motion Effects palette offers a motion blur option, as well as spatial and temporal noise reduction algorithms that seemed to perform well without softening image detail.[/item]
[/list]
If you haven't tried Resolve yet, you've got no excuses. DaVinci Resolve Lite is FREE, and it includes all the features above except the new Motion Effects palette capabilities, which are available in the full version that runs $995.
Las Vegas Supermeet Presentation at NAB; April, 2013